Give mom a Jumbo Tote for Mothers Day!
Mom will love that she can take just about everything with her in this Jumbo Tote. It holds groceries, books, kids toys, beach stuff, you name it. Made from 100% cotton, it has a squared off bottom and extra long natural web handles. 20"w x14.5"h x4.5"d.
Plus: Zazzle offers 5 other bag styles, so you can order any of our designs, on your choice of bags styles.
Budget Tote
With a slim, fashionable design, and colored handles, this tote is environmentally friendly and truly is a great value. Totes are great as presents or giveaways. Our budget tote is made from 100% cotton and has strong handles with reinforced stitching. Dimensions: 15.75"h x 15.25"w.
Grocery Tote
"Paper or Plastic?" You'll say, "No, thanks", when shopping with this environmentally friendly tote. Its wide bottom makes it great for groceries or larger items. Made from 12oz cotton twill, it has cotton-web handles which have stress-point reinforced stitching. Dimensions: 13"w x 15.5"h x 7"deep.
Impulse Tote
Choose our fancy two-color tote. It comes in multiple color combinations and is made from 12oz 100% cotton canvas. This attractive, large capacity tote looks great when you put your photos or designs on the pocket, yet it's tough enough to stand up to stuffing, hauling and washing. 18 ½"W x 13 ½"H x 5 ½"D.
Organic Grocery Tote
Save Mother Earth with this environmentally friendly grocery tote made from 100% organic cotton. It's got a wide bottom so it easily fits big groceries or other large items. The material is 12 oz cotton twill and its cotton web handles are reinforced for extra strength. 13"w x 15.5"h x 7"d.
Tiny Tote
Great for gifts or social events, this mid-sized 100% canvas tote features side and bottom gussets so it expands as you load it. It comes with natural web handles and in multiple contrasting colors. Dimensions: 14.5"w x 11"h x4"d.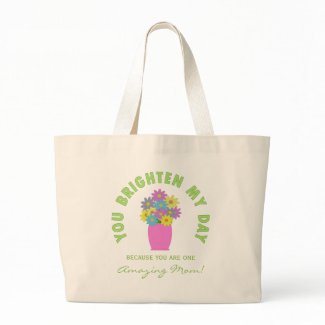 One Amazing Mom: Mothers Day Tote
by
HolidayFun
Join one of the largest
artist affiliate programs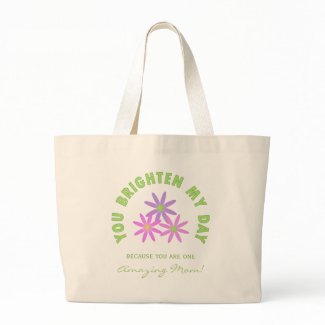 One Amazing Mom: Mothers Day Tote
by
HolidayFun
Join Zazzle's
artist affiliate program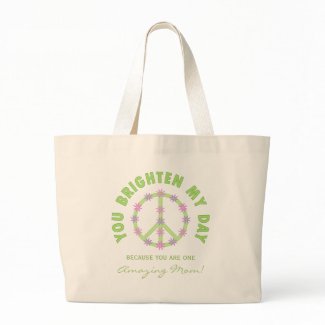 One Amazing Mom: Mothers Day Tote
by
HolidayFun
Join one of the biggest
artist affiliate programs